A while back, Rachel from
Lines Across
emailed me about being a part of a fun series for the month of June called the Craft Stash Bash.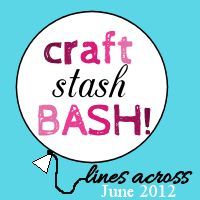 I was excited because I have a huge craft supply hoard stash! (Y'all know I recently made over my craft room because my stash was getting out of hand!) When thinking of a project to do that utilized my stash, I stumbled upon the cutest popsicle stick art on Pinterest. I have lots of canvases and popsicle sticks, so I was inspired to make my own popsicle stick art.
I first laid out the popsicle sticks on the canvas, creating a pattern that I liked. I had to cut off the ends of the sticks to make them fit together almost like hardwood flooring.
I didn't want the wooden sticks to look new and perfect, so I boiled some tea bags. I know that sounds totally random, but it's not! I wanted to use the tea to "stain" the wood. I didn't have any wood stain, and this project was about using my stash, not adding more to it.
I placed all the popsicle sticks in a glass jar and poured the tea over them. I let the sticks soak for a bit. While they were soaking, I painted my canvas. I used three different shades of brown to create a wood look. (The wood look wasn't really necessary because the wooden sticks ended up fitting together pretty closely in the end.)
After I had let the popsicle sticks soak for a while, I took them out of the tea and let them dry on a paper towel. Then it was time to attempt to put my popsicle stick puzzle back together. After I recreated the "pattern," I glued the sticks down with hot glue. Then I had a cool looking wooden canvas, but I had no idea what to put on it! What did I do? I went to Poets.org! I just started browsing through some poems written by some of my favorite poets, and I found the perfect poem by E. E. Cummings called "maggie and milly and molly and may." The poem is about four little girls going to the ocean and finding different treasures, and since it's almost summertime, the last two lines spoke to me: "for whatever we lose (like a you or a me) / it's always ourselves we find in the sea." (Please excuse my English teacher nerdiness.) I decided to use the last line on my wooden-stick-covered canvas.
I used my Silhouette to cut stencils of a wave and the quote from contact paper. I used a brush and a tiny bit of paint to stencil the different elements on the popsicle sticks. Then I had to finish the edges of the canvas. I chose to use something else from my craft stash: thin rope.
I wrapped the rope around the edges of the canvas and attached it with hot glue. Not only is my craft stash a little smaller now, but I also have a unique, summer-inspired piece of art!
I love the rustic, somewhat nautical look of the piece!
I think my favorite part of it is the rope-covered edge.
I also like how the wooden sticks got a little warped from being in the tea bath.
The piece looks perfect paired with my apothecary jar of shells that I've collected from different beach trips. I hope this has inspired you to start using some of your craft stash. I'm so glad that Rachel invited me to be a part of the bash so that I could get rid of some of mine! The Craft Stash Bash will continue throughout the month of June, so take a minute to check out Lines Across and all the stash-utilizing ideas from some very talented bloggers!